Audio
Sarah and Master Chou have recorded conversations on popular subjects. The recordings are a starting point to the topic or topics in discussion. These audio recordings are available as FREE downloads.
As with all spiritual teaching, there is often more than one point of view, explanation or understanding. Sarah and Master Chou offer you theirs in these sessions. Use your discernment as to whether their content resonates with you.
Click on the button to download and listen at home.
Conversations with Master Chou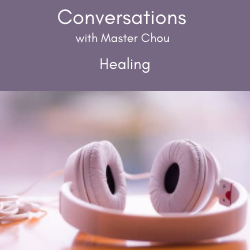 Healing
Master Chou explores the subject of Healing and helps us understand exactly what Spiritual Healing is. He explains the nature of healing energy, where it comes from and how it is transmitted to a patient. Master Chou also describes the important role of Healing Guides. We then explore the modalities of 'hands-on' healing, distant healing and trance healing. There is a discussion of the issues and likely consequences of using human energy to promote healing, as sometimes happens in Reiki. The use of Crystals in healing is looked at and how to find suitable ones to work with. Finally we round off with a discussion of how healing could help mitigate the longer term effects of the Corona Virus.
Conversation between Master Chou and AJ. The recording is approximately 42 minutes long and 40.6MB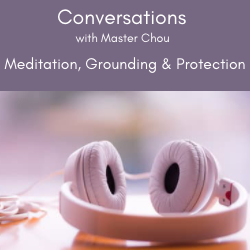 Meditation, Grounding and Protection
Master Chou begins by discussing the principles of Meditation and tells us how to use it to communicate with the Soul. He explains the relevance of Meditation to Mediumship. We then move onto Grounding and Master Chou talks about the importance of maintaining your energetic connection with Mother Earth. Finally the discussion moves onto the crucial subject of Protection. Master Chou tells us how to take steps to protect the integrity of the Aura and how to engage with our Spirit Guide (Door Keeper) who can give us protection from external threats.
Conversation between Master Chou and AJ. The recording is approximately 44 minutes long and 41.9MB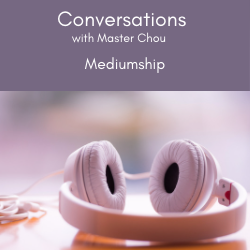 Mediumship
Master Chou explores the fascinating subject of Mediumship and the differences between Trance, Physical and Mental Mediumship. He also explains how Mediumship differs from Psychic Awareness and Extra Sensory Perception. He delves into the energetics of Mediumship and gives some important advice for those already following this path and for those who would like to do so.
Conversation between Master Chou and AJ. The recording is approximately 43 minutes long and 44 MB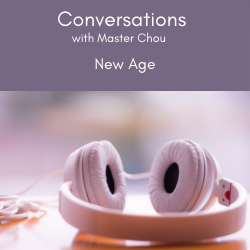 New Age
Master Chou explains how Spirit see the New Age Movement and answers numerous questions as he deals comprehensively with its many different aspects. Subjects discussed include Angels, Ascension, Gurus and Ascended Masters, Channelling, Extra Sensory Perception, Crystals, Lucid Dreaming, Positive Thinking, Near Death Experiences, Astral Projection, Ghost Hunting, Ouija Boards and EVP. So there is something for everyone in this wide-ranging discussion which you will find to be most enlightening.
Conversation between Master Chou and AJ. The recording is approximately 57 minutes long and 55 MB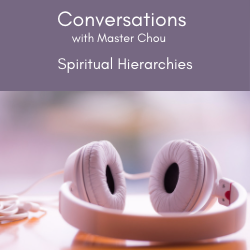 Spiritual Hierarchies
Have you wondered who the Gods and Goddesses really are and what is our relationship to them? Perhaps you want to know more about the Angels, or you have speculated on whether or not there is a Hierarchy in the Spirit World. Master Chou deals with all of these questions and more in this conversation.
Conversation between Master Chou and AJ. The recording is approximately 28 minutes long and 27 MB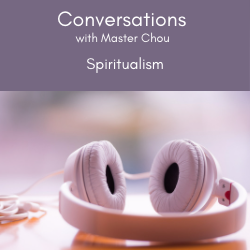 Spiritualism
Master Chou talks about Spiritualism as both a Movement and a Religion. He discusses the reasons why it began and how it evolved from its origins in the mid-19th Century to it's place in the modern world. He also looks at the events that took place at Hydesville, the 7 Principles, Spiritualist Churches and the relationship Spiritualism has to Mediumship, Healing and Philosophy.
Conversation between Master Chou and AJ. The recording is approximately 43 minutes long and 41 MB