eBook - GET REAL: About you and your Aura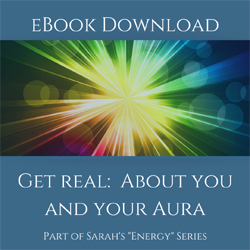 Sarah has written an easy to follow ebook about the Aura. It is designed to be read in a day and used as a reference book that you can go back at any time you need.
Sarah has written this ebook to bring attention to Aura, which gets overlooked or disregarded as the focus goes to the Chakra system. The Chakra system is, of course, important but not more so than the Aura.
In this ebook-
Sarah will explain - What the Aura is and why you need to keep it healthy. The ebook has seven full-colour diagrams; along with 11 easy to follow exercises that slot effortlessly into your daily life.
As you work through the chapters, you will learn about your energy system and how to care for it.
You can purchase a copy of this ebook in our SHOP in either MOBI (for Kindle) or E-PUB (for iBooks and other eReaders) formats.
Thank you so very much for the ebook. I just wanted to let you know that having initially read it front to back ... I am working through it daily and endeavouring to learn and put into practice the lessons. I always knew my understanding of both the Aura and Soul was sketchy at best but now feel myself to be massively informed by comparison. My comprehension growing consistently with daily meditation and not least washing my aura ... who knew what a massive and very positive difference that would make to my connection with both Spirit and myself.
Pam Peterson, UK